Blind Luck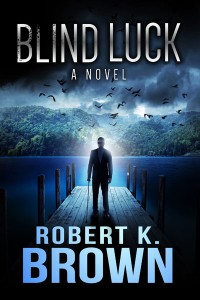 Jonathan Worthy is a senior resident in cardiovascular surgery at NYU when he is blinded in a horrific automobile accident. Three years later, despite moderate success as a breakout author, he continues to struggle to come to terms with his new life. Even his marriage to Becca, a beautiful pediatric nurse, is suffering from his bouts of depression and self-pity. Things are made even worse when he receives a phone call that his beloved grandmother has been found dead at the small marina she operated on Lake Martin, Alabama, where Jon had spent the idyllic summers of his youth.
Grief-stricken, Jon and Becca travel back to the place where he had lived what he considered to be the happiest days of his life. He is immediately reunited with Ward Crenshaw, his distant cousin and best childhood friend until they had inexplicably parted ways as teenagers. It doesn't take long for their twenty-year-old rivalry to reignite, this time with Becca at the center. As a series of dangerous and mysterious events occur, Jon is forced to confront his own self-doubts about his handicap as he fights desperately to protect their marriage…and ultimately, to save both of their lives from a venomous hatred with shocking roots.
Click here to read the prologue & 1st chapter from Blind Luck.
Available in Kindle format at Amazon.com for $3.99.